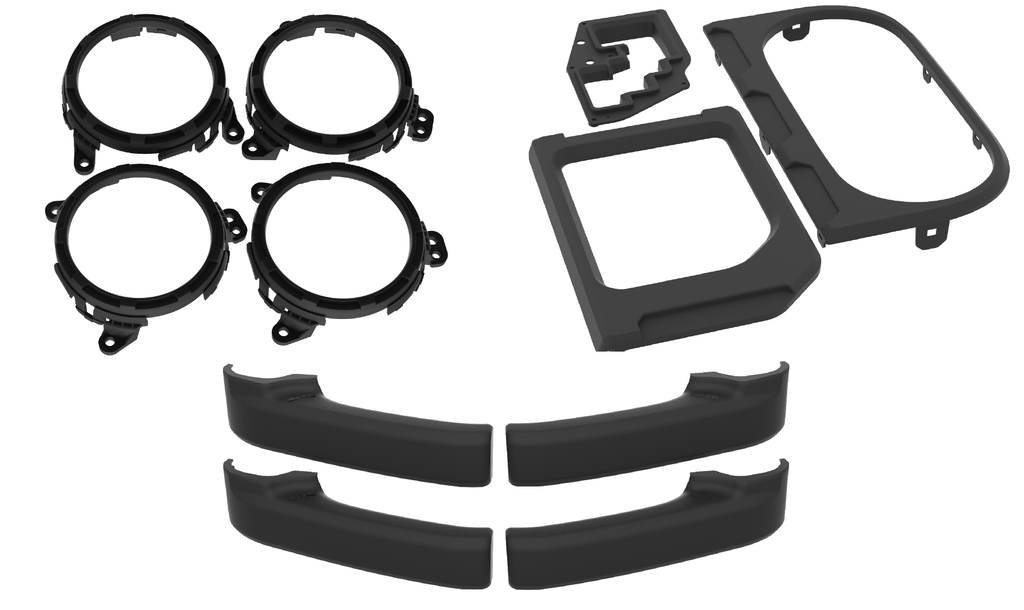 This bundle includes 
Tundra Chrome Delete Kit 
Why did Toyota use so much chrome on the interior?! We may never know, but MESO has the solution. Introducing the Tundra chrome delete kit. This 3 piece kit will completely replace all the chrome on the center console including; Cup Surround, Shift Surround, and Shift Gate. All parts are injection molded for a factory fit and finish. Available in BLACK only.
Tundra Vent Ring Kit 
Continuing the chrome delete theme for the Tundra interior, these new Blackout Vent rings will get the job done. They are a complete replacement for the factory Chrome rings(not stick on) and mount from the rear like OEM. Although the installation is a little more involved (dash panel removal is necessary) the fit and finish is as good as factory. SOLD IN A PACK OF 4. ONLY BLACK AVAILABLE AT THIS TIME
Tundra Door handle Kit 
These Blackout covers snap right over the factory silver handles giving your door panel a sleek and clean look. The Factory handles were 3D scanned for 100% exact fitment. Sold in a 4 PACK. ONLY BLACK AVAILABLE AT THIS TIME.
All orders ship same day under these ideal conditions:
Order received before 4pm PST
Our current order volume allows for your shipment to be processed
Order information is accurate and able to be verified via our shipping provider
All orders ship via USPS First Class or Priority mail only. Any orders over 15.99 oz must be upgraded to Priority Mail and may be subject to additional charges.
During periods of product launches or inventory updates after a long absence of the product there may be additional load on our shipping queue. Please allow us additional processing time to handle the large volume of orders we may be dealing with.
Shipments that have lost tracking will need to be investigated with USPS first before reaching out to us. We will make our best effort to find any lost mail items. Generally items that have not received shipping updates for several days are either truly lost or have issues with the shipping barcode on the label. Many items will be delivered later than expected as they fall back on the address written on the label instead of the barcode scanned by the system. Please allow for an additional 7 business days since the last shipping update before contacting us for help.
Our Tops Sellers
the most popular products we make